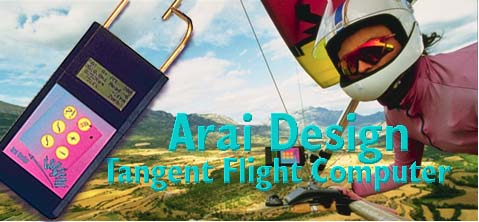 ---
Welcome to the Arai Design Web site!
Arai Design is committed to bringing footlaunched pilots the best performing instrumentation on the market. We were the first to bring Speed-to-Fly (S2F) instrumentation to hang gliding and paragliding, and we continue to have the best instrument available for Cross Country flying, either for recreation or competition. It has the most useful features because it is designed by a serious competition pilot for his own use with input from some of the best pilots in the World (5 of 6 of the '93 Worlds Gold Medal team.) No other S2F vario has close to the competition record in the USA that the Tangent does. We feel that this is because serious pilots want the best instrument. These pilots can choose any glider or instrument they want, and they have chosen the Tangent.

If you're wondering whether the claims and hype around the Tangent are true, you should consider the following questions:
Does the designer of your instrument still fly?
Does he log over 1000 cross country miles a year?
Does he fly in competitions?
Is he a four time National Champion using his instrument?
If you could answer yes to two of those questions you have eliminated most variometers. If you answered yes to all of them, then you own a Tangent.

These questions are important because they point to two important factors which are quite likely to influence the final product:
The experience required to design a useful instrument.
The designer's personal need for a useful & reliable instrument.
So perhaps some of the hype has some merit.

If you want to find out more about the Tangent Flight Computer (and read more hype,) check out the rest of our web site.
30 Day Trial
We have a money back guarantee: If you don't like the Tangent, you can return it within 30 days for a full refund! So if you can't get a demo ride, this is even better; you can try the Tangent for a full month. Of course you must return the unit in as new condition. Contact us for details.
---
Download Files for Offline Browsing

We now have several items in ZIPped format for downloading.
---
---
Chris Arai info@araidesign.com
---



Copyright Chris Arai, Arai Design 2000 all rights reserved